Description
Details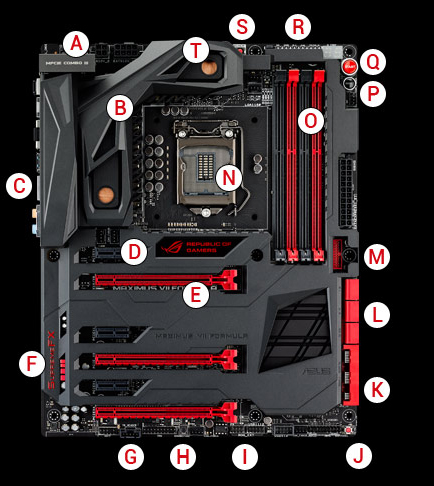 mPCIe Combo III


M.2 Socket 3 slot, 802.11ac Wi-Fi/Bluetooth v4.0

Extreme Engine Digi+ III


10K Black Metallic Caps, 60A BlackWing Choke
Intel Ethernet GameFirst III
3 x PCIe 2.0 X 1 slots
2 x PCIe 3.0 X 16 slots, 1 x PCIe 2.0 X 16 slot (Max. x4 mode), Support SLI/3-Way CFX
SupremeFX Formula 2014

SupremeFX Shielding Technology
Cirrus Logic CS4398 DAC
WIMA film capacitors
Texas Instruments LM4562 Amp
ELNA Premium Audio Capacitors
Sonic Studio
Sonic SoundStage
Sonic SenseAmp

Thunderbolt 2 header
Sonic SoundStage
ROG EXT connector

KeyBot


DirectKey/ XMP / CPU Level Up
Dual SATA Express
10 x SATA 6Gb/s (4 ports shared with 2 SATA Express)
8 x USB 3.0(2@board; 6@rear); 6 x USB 2.0(4@board; 2@rear)
Intel LGA 1150
DDR3 3300+ (O.C)
4 DIMM, dual-channel
Reset button
Start button
Probelt
MemOK!
CrossChill Copper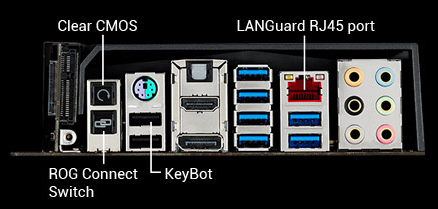 CrossChill Copper
Air or Liquid — It's Cooler with Copper!
All-new CrossChill Copper is engineered with a copper cooling channel that's incredibly effective at removing heat. It's great on air, and with liquid you'll lower MOSFET temperatures by up to 73.4°F (23°C)! The G1/4" threaded fittings mean CrossChill Copper is ready for your existing cooling setup!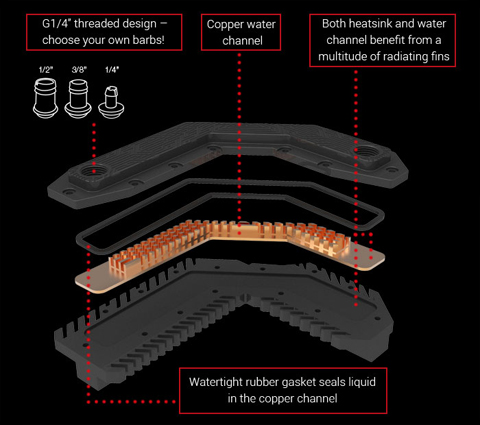 Intel® Ethernet. LANGuard. GameFirst III
This is game networking taken to the next level. This is ROG.
Intel® Ethernet
More throughput, less CPU usage and great gaming experiences!
Maximus VII Gene features the very latest Intel® Ethernet for faster, smoother gaming — always. Intel's LAN has the serious double advantage of reducing CPU overhead and offering exceptionally high TCP and UDP throughput. This significantly reduces the processor's workload, so there's more power for your game and your gameplay!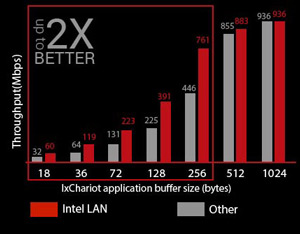 ASUS engineers used IxChariot, an independent network-assessment test tool, to determine just how much quicker Intel Gigabit Ethernet deals with the smaller (sub-256 bytes) UDP data packets that are vital for responsive gaming. The results are in — and with Maximus VII Formula your game-data packets flow up to two times (2X) faster than competing gaming-LAN technologies!
LANGuard – RJ45 Reinvented!
Pumped-Up Throughput. Best Surge Protection.
ROG has reinvented the LAN port. Advanced signal-coupling technology and premium surface-mounted capacitors improve throughput, while surge-protected and electrostatically-guarded components (ESD Guards) protect your motherboard from lightning strikes and static electricity!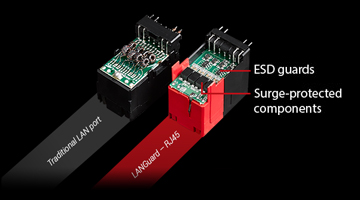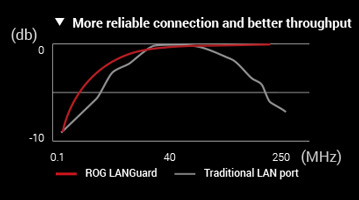 GameFirst III
Network-Optimization Software for No-Delay Gameplay!
Exclusive GameFirst III has been upgraded with even more gamer-helping features and an interface that's even more intuitive! GameFirst III helps you to assign top priority to game packets and allocate more bandwidth to the game, ensuring the best online gaming experience.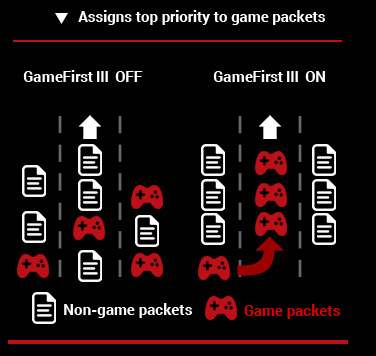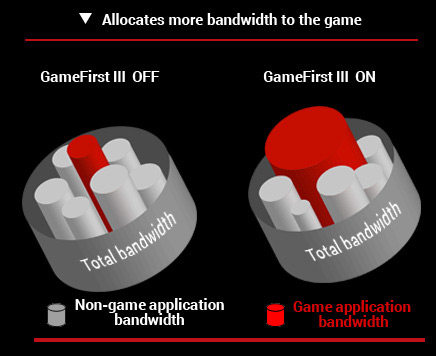 Choose from a preset mode to suit what you're doing – Optimization, Game, Media Streaming or File Sharing. You can manage bandwidth down to the level of individual applications, with five priority levels (highest, higher, normal, lower, lowest) and even the ability to block specific traffic. GameFirst III even has a built-in Network Monitor tool, so you can supervise your network traffic and test your connection speed to check that you're getting the bandwidth you pay for!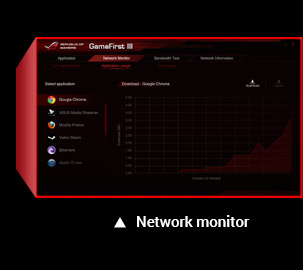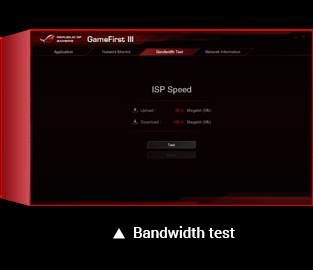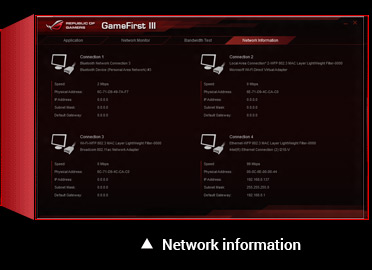 SupremeFX Formula 2014 and Sonic Radar II
New and improved onboard audio that's beyond compare.
SupremeFX Formula 2014
120dB SNR Audio for Gaming Punch and Hi-Fi Excellence!
SupremeFX Formula 2014 delivers audio that's as great as a dedicated sound card! Cutting-edge electromagnetic interference (EMI) isolation and exceptionally-premium components deliver best-in-class 120dB signal-to-noise ratio (SNR) output. Exclusive SenseAmp technology automatically detects headphone impedance and adjusts accordingly, and SupremeFX Formula 2014 is able to drive up to 600ohm headphones. Moreover, Sonic SoundStage applies the best audio settings for popular game genres.
Sonic Studio - Brilliant One-Click Virtual Sound!
Sonic Studio is a brand-new audio-tuning suite that provides an aural treat. Use the one-click Virtual Surround function to 7.1 channels, even through a stereo (2.0-channel) headset. It offers five more superb audio controls, including Reverb, Bass Boost, Equalizer, Voice Clarity and Smart Volume — ensuring that everything you hear sounds just amazing!
Sonic Radar II
Scan and Detect to Dominate!
Designed for first-person shooters (FPS), Sonic Radar II displays a stealthy overlay that shows what opponents and teammates are up to. See the precise direction and origin of in-game sounds such as gunshots, footsteps and call-outs, and practice your enemy-pinpointing skills — and exclusive Audio Enhancement further improves in-game sound for superb hearing awareness. The all-new Sonic Radar II includes a redesigned control panel with customizable game list!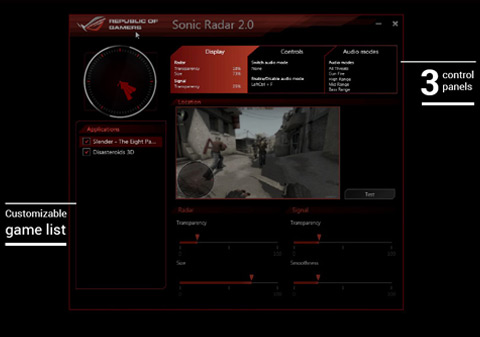 KeyBot and mPCIe Combo III + 802.11ac / Bluetooth 4.0
Instant keyboard upgrade, fast Wi-Fi and M.2 connectivity
KeyBot
Your Keyboard, Instantly Upgraded!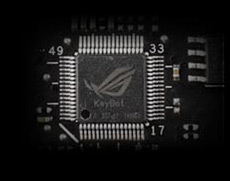 Fancy a free keyboard upgrade? That's what KeyBot gives you — instantly. Just plug your existing keyboard into the dedicated USB socket to activate the exclusive KeyBot microprocessor on the Maximus VII Formula. Use the easy-to-use utility to assign macros to function keys F1-F10, launch any application with a single press or control multimedia playback.
mPCIe Combo III
Your Connectivity Companion!
Maximus VII Formula's mPCIe Combo III + 802.11ac / Bluetooth 4.0 module delivers the latest connectivity, with mini PCI Express (mPCIe) on one side and M.2 (PCIe/10Gbit/s and SATA/6Gbit/s) on the other.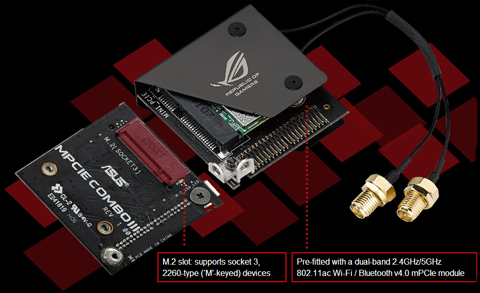 UEFI BIOS and Secure Erase
Award-winning simplicity and factory-fresh conditioning for superb performance.
Award-Winning UEFI BIOS
Acclaimed by World Media as the Most-Intuitive UEFI BIOS!
The smoothest mouse-controlled graphical UEFI BIOS has been upgraded to deliver faster setup and easier functions, with an even more appealing design for better overclocking and DIY experiences. Whether you're a PC novice or a seasoned overclocker, the EZ and Advanced Modes help you find your way, quickly and easily.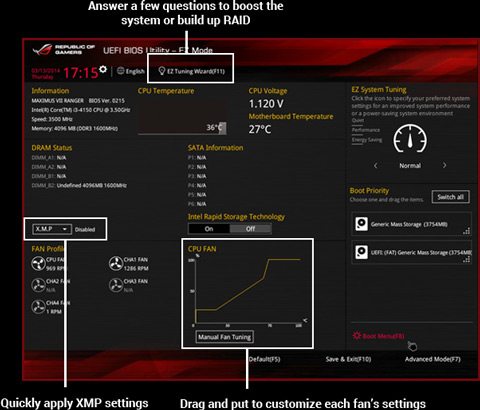 EZ mode
Fan Profile:

Detailed CPU and case fan information for instant cooling!

SATA Information:

Displays SATA port details for you to easily recognize devices!

Fast Clock Adjustment:

Use mouse controls to change the time and date!

EZ XMP:

Improve your DRAM performance with a click!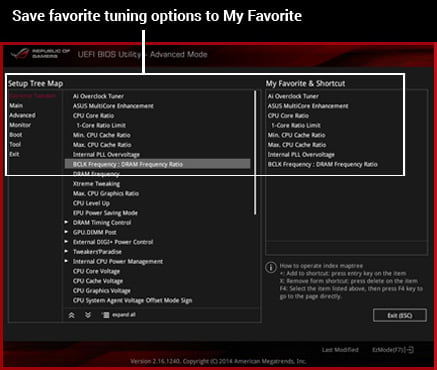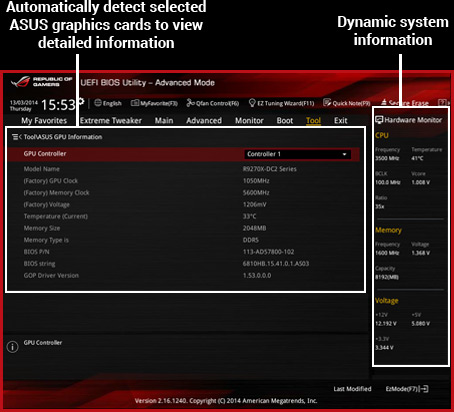 Advanced Mode
Shortcut:

Right-click to create shortcuts to frequently-used settings or press F4 to manage your list!

Quick Notes:

Make notes and capture BIOS-related ideas, quickly and conveniently!

Last Modified Log:

Track recent changes and save preferred profiles onto a USB drive!

SATA Port Renaming:

Rename SATA ports for easy identification!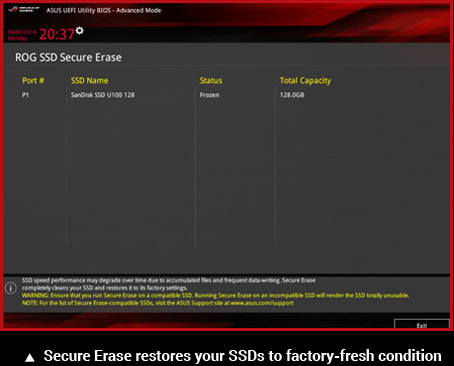 Extreme Engine Digi+ III & TrueVolt USB
Rock-steady power, inside and out
TrueVolt USB
Stable Supply of 5V - Front and Back!
Forget the USB Power Drop-Outs!
ROG's TrueVolt USB design delivers a rock-steady 5V supply to both the front and back USB sockets – no drop-outs!
Two 5V Isolated Linear Power Supply for All USB Ports
Low noise, low loss
Stable 5V* supply to provide clean 5V USB power to minimize potential fluctuations
All connected equipment (e.g. USB DAC or thumb drivers) benefits from the clean, stable 5V supply at the same time.
*5V Output varies from PSUs to PSUs
Extreme Engin Digi+ III
Hardcore Power Delivery with Premium Components
Maximus VII Formula's completely digital power architecture along is engineered with premium components to provide total control over the Fully Integrated Voltage Regulators (FIVR) found in the latest Intel® processors. Dynamic speed adjustments and intricate manual controls let you the push the processor and memory further than ever — with the assurance of the highest stability and precision.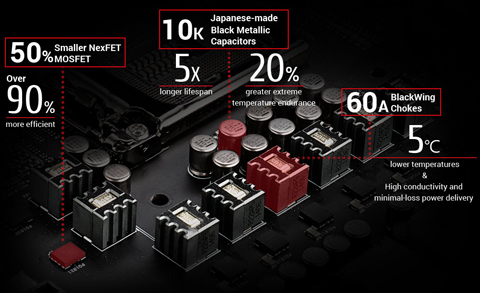 While you protect your back in the game, Maximus VII Gene protects all sides in the real world.
ROG Armor
Style, Strength, and Cooling in One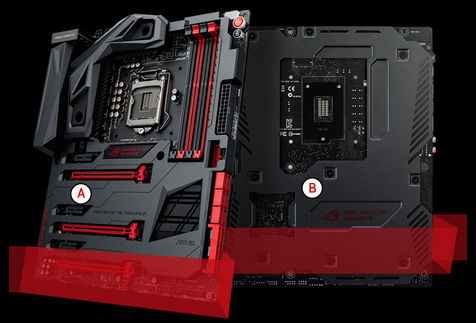 A. Strong ABS Top Cover
Blocks graphics card's heat and ensures lower system temperature for better performance.
B. Solid SECC Steel Backplate
Strengthens the motherboard to prevent motherboard bending, employing thermal pads to efficiently conduct heat away from crucial components.
Gamer's Guardian
All-Round Protection Provides the Best Quality, Reliability and Durability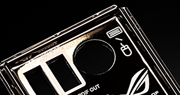 Black Nickel-Coated Q-Shield
0 Pain!
Protect your hands from nicks and cuts!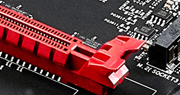 Q-Slot
1 Clip
to swap or secure your graphics card!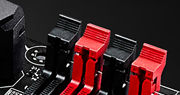 Q-DIMM
1-Sided
clips mean handling memory modules is a cinch – super simple and super secure!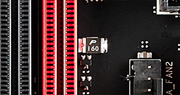 DRAM Over-Current Protection
1 Additional
resettable fuse protects connection ports and DRAM against overcurrent and short-circuit damage!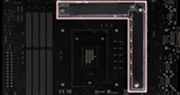 Backplates
2+
Backplates fitted with thermal pads to provide additional cooling, protection and reinforcement!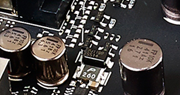 ESD Guards
2X Greater
Electrostatic protection than standard. ESD Guards cover the PS2, USB, audio and LAN ports!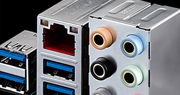 Stainless Steel Back I/O
3X Longer
life-span than ordinary panels!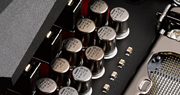 0K Black Metallic Capacitors
20% Greater
Temperature endurance
5X Longer
Lifespan than generic capacitors!
Additional Info
Additional Info
| | |
| --- | --- |
| Manufacturer | ASUS |
| Price | Rs 36,000.00 |
Reviews
Tags
You may also be interested in the following products