Description
Details
Ubiquiti 24 GHz Point-to-Point Radio (airFiber) 2x
Dual-independent 2x2 MIMO 24GHz hi-gain reflector antenna system, 1.4 Gbps+ throughput, No licensing fees, No special paperwork to operate the radio. Two (2) Ubiquiti airFiber 24 is required to make a link.
Revolutionary Wireless Technology
Introducing airFiber, a truly revolutionary 24 GHz Point-to-Point radio from Ubiquiti Networks. Housed in a compact, highly efficient form factor, airFiber delivers revolutionary performance of 1.4+ Gbps, aggregate throughput and 13+ km in range. airFiber ushers in a new era in pricedisruptive, carrier-class backhaul technology.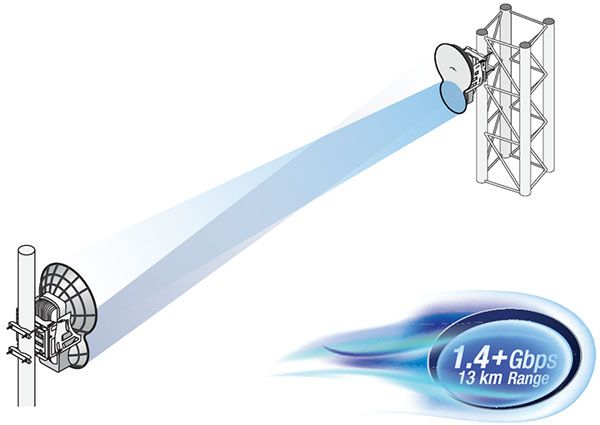 Built for Speed
airFiber delivers 1.4+ Gbps, aggregate throughput. To put this in perspective, airFiber can transmit a 100 MB file in less than a second. Rivaling common broadband providers, airFiber download speed is up to 100x faster.
With speed and throughput surpassing conventional wired backhauls, airFiber prevails over expensive and labor-intensive wired infrastructures.
airFiber backhauls do not share the security risks associated with wired backhauls. The long distances of wired backhauls are vulnerable to copper theft, fiber optic damage, vandalism, and accidental breakage. With airFiber, only the installation points of the airFiber links need to be secured.
Efficient by Design
Every detail of airFiber was designed and engineered by the Ubiquiti R&D Team. From the silicon chip up to the innovative split-antenna architecture, the Ubiquiti R&D Team created airFiber to deliver superior throughput with efficiency. airFiber was pupose-built to create a high performance backhaul.
Designed for Freedom
airFiber operates in the worldwide, license-free, 24 GHz frequency. Anyone around the world can purchase and operate airFiber without any special permits, paperwork, or added licensing costs. Users are free to locate, deploy, and operate airFiber practically anywhere they choose.
Plug and Play Deployment
Based on Ubiquiti's innovative and intuitive airOS™, the airFiber Configuration Interface enables quick configuration and deployment. With installation efficiency in mind, the mechanical design allows easy installation by one person. A two-person installation crew can effectively install and align an airFiber link.
Advanced Design
airFiber uses patent-pending technology to virtually eliminate packet transmission latency. Conventional wireless standards impose a latency by having to receive a packet before a packet is transmitted. airFiber can transmit data synchronously without any wait time.
Product Specifications
• Operating Frequency: 24.05 - 24.25GHz
• Dimensions: 649 x 426 x 303mm (25.6" x 16.8" x 11.9")
• Weight: 10.5kg (23.2 lbs) - mount included
• Max. Power Consumption: < 50W
• Power Supply: 50V, 1.2A PoE GigE Adapter (included)
• Power Method: Passive Power over Ethernet (42-58VDC)
• Operating Temperature: -40° to 55°C (-40° to 131°F)
• Maximum Throughput: 1.4+ Gbps
• Maximum Range: 13+ km
• Packets per Second: > 1 million
• Uplink / Downlink Ratio: 50% Fixed

Radio Frequency
• GPS: GPS Clock Synchronization
• EIRP: ~33dBm (FCC/IC), ~20dBm (CE)
• Channel Bandwidth: 100 MHz
• Modulation: 64QAM MIMO, 16QAM MIMO, QPSK MIMO, QPSK SISO

Product Includes
(1) airFiber AF24
(1) PoE Adapter
(1) Power Cord
(1) Pole Mount Bracket Assembly
(1) Quick Start Guide
Additional Info
Additional Info
| | |
| --- | --- |
| Manufacturer | UBNT |
| Price | Rs 0.00 |
Reviews
Tags
You may also be interested in the following products